About Us
Last Update: 2019-03-21
REXMED Industries Co., Ltd. established in 1976 as a professional manufacturer and exporter of medical and laboratory equipment in Taiwan. Nowadays, we are specialize in

1. Operating Theatre Turnkey Project Solutions.
2. Delivery Room Turnkey Project Solutions.
3. Dental Clinic Turnkey Project Solutions.
4. ENT Clinic Turnkey Project Solutions.
5. ICU / CCU Turnkey Project Solutions.
6. Veterinary Clinic Turnkey Project Solutions.
7. Laboratory Room Turnkey Project Solutions.
8. Central Sterile Supply Department Turnkey Project Solutions.

Medical Equipment: Suction Unit, Autoclave Sterilizer, Operating Table, Ophthalmic Table, Delivery Table, Veterinary Table, Stretcher, Hospital Bed, Operating Lamp, ENT Treatment Unit, Treatment Chair, Slit Lamp, Dental Unit.

Laboratory Equipment: Autoclave Sterilizer, Ultrasonic Cleaner, Water Bath, Immersion Cooler, Shaker, Fermentor, Incubator, Oven, Cell Culture Roller, Environmental Chamber, Cooling Cabinet, Differential Blood Cell Counter, Platelet Rotator, Platelet Shaker, Hot Plate, Vortex Mixer, Roller Mixer, Centrifuge.

Our products have popular applied in domestic hundred of hospitals, medical schools, dental and scientific clients and export to more than 150 countries around the world.

We are proud to be one of UNICEF/UNFPA qualified vendor to supply our products for humanitarian aid since 1998, also we were selected by European firms as a reliable partner to supply our products for WHO, World Bank, MDB, UN and NGO's projects.

Please send your inquiry directly to sales@rexmed.com.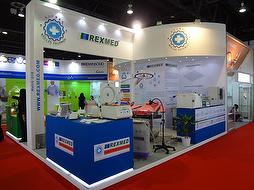 Basic Information
Company Name:

REXMED INDUSTRIES CO., LTD.

Business Type:

Consultant, Distributor, Exporter, Manufacturer, ODM, OEM, Service Company, Wholesaler

Year Established:

1976

No. of Employee:

< 50

Brand:

REXMED, REXALL

Main Product:

Suction Unit, Autoclave Sterilizer, OT Table, Ophthalmic Table, OB Table, Veterinary Table, OR Lamp, ENT Treatment Unit and Chair, Ultrasonic Cleaner, Water Bath, Shaker, Incubator, Oven, Environmental Chamber, Blood Cell Counter, Vortex Mixer, Centrifuge

Main Export Market:

AFRICA, ASIA, AUSTRALASIA, C-AMERICA, EUROPE, MID-EAST, N-AMERICA, OTHER, S-AMERICA
Certification
Product Certification:
Taiwan Product Magazines
2019

2018
Contact Information
Owner:




Contact Person:




Phone Number:



Business Phone Number:

+886-7-3814010

Company Fax Number:

+886-7-3814013

Office Address:

Office Hours:

Monday-Friday: 9:00~12:00, 13:30~18:30

Company Website: